Diving in Hyères means discovering all the richness of a national marine park between Hyères and the Golden Islands: Porquerolles, Port-Cros, Le Levant. More than 40 dive sites in Hyères to enter the wonderful world of silence! Discovering its wrecks, nautical trails, …
Your baptism or exploration must be supervised by professionals who have made their passion a profession!! Today, come and discover one of our favorite professionals Florent Verrier from Saphir diving in Hyères.
Interview with Florent VERRIER – Scuba diving enthusiast and creator of Saphir Plongée (diving club in Hyères)
During this article discover Florent VERRIER, this scuba diving enthusiast, French instructor, Padi since 2015 and director of the spot Saphir Plongée à Hyeres.
Can you introduce yourself quickly?
My name is Florent, 41 years old, former police officer in the Paris region. I have 2 children and I now live in the Var, to practice my profession after having traveled quite a bit to gain experience.
When and where did you start diving?
I discovered diving during a baptism in Tahiti at the end of 2013 when I visited a friend and colleague. I was at the time in burn-out mode on my job at the time and needed to take a step back. We had done this experience together and it was just wow!! I still remember the Tahitian instructor Teki who gave us the baptism in the lagoon on the "aquarium" site, that is to say! And what better place to start diving?!
Why did you turn your passion into a job?
I think it's something that needed to mature, and to explain the why, you have to understand the how and the story:
When I got back on the boat at the end of the baptism, talking with Teki and my friend, when I saw the relaxed atmosphere, the idyllic setting and the great good it did for me to be under the water in the middle of the fish, what Teki had brought us, that was a real revelation for me: I said "hey guys is that your job? I want to do the same! »
I can say today that since then, this first day of diving has radically changed my life, and for the better! That's what I want to give too.
I really realized it when I was back in France (back to the harsh Parisian reality); I therefore started at the beginning of 2014 to take lessons in the pit with open water. The objective was clear!: Get to the monitor and quickly!
So I did a series of training courses and obtained a transfer to Nice to continue this professional retraining project! In parallel with my work that has become "food" I have chained dives andtrainings at CIP Nice. I went to the Dominican Republic after obtaining the Divemaster to gain experience in supervision and then returned to France to pass the instructor in Cannes, IT College: so I obtained my PADI Instructor Certificate August 31, 2015!! Mission accomplished, Proud as a rooster!
From there the ideas were more than clear: teach diving while traveling the world and experience freedom! I filed my resignation from my job as a police officer and created my company as an independent monitor. It was not a "health walk", far from it; I have traveled to several countries to gain my teaching experience. France still does not allow Padi instructors to work.
I even practiced in Polynesia (Tahiti and Bora) after obtaining the Polynesian pro patent in 2018 (year of its creation) and had baptisms done at the very place where I was. -even baptized, I found it enormous!!
It hasn't always been easy…
both financially and for family life, butI have never regretted this choice (even if sometimes moments of doubt). Today I can say that I have succeeded in my (2nd) career because I love my job, what I do! To bring happiness to people, to teach, to make people discover and pass on what I love, to meet lots of great people and make new friends, to travel to various countries, to see the smiles of children and people who are new to diving, to enjoy the sun and from the sea…it's priceless!! This is still true today.
In my 40s, it was time to settle down anyway: I finally passed the DEJEPS State diploma to be able to practice my profession in France: I did it for my companion (with his unfailing support at all levels!) and my children. I was given a position of responsibility as an operations manager shortly after obtaining this diploma (in parallel with my own companySaphir Plongée à Hyères) and it continues today with new projects.
I would like to tell everyone with this testimony that nothing is impossible if you really want it! That it takes going beyond our fears to get out of our comfort zone and move forward: It wasn't such an easy decision to give up a "comfortable" status the hardest part of being a civil servant is to take the first step and never look back, except to say to yourself: "I'm glad I did it!" Listen to your heart and your intuition, not the people who try to discourage you in your projects!
How long does a scuba dive take?
It is quite variable depending on the people and the service offered. It can range from 20 minutes for a baptism to more than an hour for an exploration depending on the depth, the diver or the equipment used. We can estimate an average of 45 min.
Where are your different spots located and the particularity of each one?
Where are your different spots located and the particularity of each one?
What is your top 5 most beautiful scuba diving spots and why?
Difficult to make a real classification. But I can mention the Polynesia always dear to my heart, the Caribbean with the Dominican Republic for the warm water part, Malta and its many wrecks, Greece… And for the quite different Mediterranean: the famous Gabinière at port Cros, the wrecks of the greek ruby ​​donator.
There are so many spots that I would like to do again like Thailand, the Red Sea, the cenotes of Mexico, Bali, the Great Barrier Reef of Australia. I hope I have enough of one life to do a few more.
What equipment do you recommend for divers?
Diving equipment may vary depending on the environment (temperature in particular) and the type of practice. Then depending on whether you do so-called "recreational" or "technical" diving; or occasional or professional. It will not be at all the same level of requirement in terms of equipment. It's a bit on a case-by-case basis and depends on everyone's preferences (and budget).
For recreational use, most equipment will do. There are many models and designs in many brands.
Complete "leisure" equipment can range from 600€ to 1500€ and more. To be seen according to the number of dives carried out per year if it is worth buying your own equipment. Or if it's better to rent it. In addition, for traveling divers the equipment used in warm seas will not be the same as in the Mediterranean or in the quarry (I am thinking of our Belgian or Swiss friends) . And can quickly fill a heavy plane luggage.
I offer my customers the full range of the SEAC brand. An Italian brand made in Italy with excellent value for money, as well as course + equipment offers. It will therefore be a personalized proposal according to the level of practice and the budget of each of my clients.
Diving and responsible diver: Is supervised diving compatible with respect for the marine environment?
I would say yes: we are also there to show the fragility of the environment and how to protect it to better observe it: Understand to better protect!
Have you ever thought of doing or participating in cleaning operations of the sea, lagoons, shores, lakes, etc?
I invite divers to recover on each dive the few small pieces of waste (plastic cans and others) that they may encounter by lending a small net. It is a way to raise awareness of the harmful impact of humans on the marine environment. And encourage them to pay more attention to selective sorting and gradually change behavior. Everyone should feel concerned.
There are many environmental protection associations such as Project Aware, Longitude 181 and many more: Find them all on
Sea Life Protection Associations .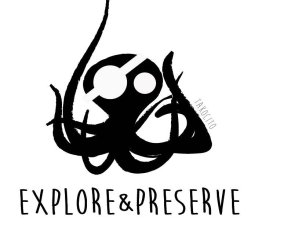 More locally in Hyères, the Explore & Preserve regularly organizes waste collection operations on the seaside, open to all goodwill: Agenda
Is it necessary to get in shape to dive better?
Diving does not require any specific physical preparation. However, it is best to maintain a healthy lifestyle. This requires a good diet. And practice another regular sporting activity rather to keep in good general shape. Sometimes the sea can be capricious and require greater physical effort. For example, swimming in a strong current, helping a friend in difficulty…
I have read on some articles that Yoga has benefits for diving, what do you think?
It's undeniable! Yoga helps to calm, control your breathing and in fact allows you to consume less and extend your time underwater! Sophrology is also excellent and was the initiative of a specialty (Bathysmed at the initiative of Vincent Meurice and Doctor Coulange from Marseille) aimed at treating certain psychological traumas in the binding to diving. It had great results!
Is there any special physical preparation to do before a diving session?
Sleep well, be rested, eat and hydrate well before and after and above all Listen to your body! It will already be good! And don't force yourself to dive if you don't feel it. The mind is also important and the group effect can have harmful decision making. Above all, it must remain a pleasure!
Can you tell us how to maintain physical condition throughout the year?
Any sporting activity practiced in addition can only be beneficial. Swimming, jogging, tennis, fitness, walking… do what you love!
Do you have any last advice for us?
While diving: Keep diving, exploring and discovering new spots. And train yourself to evolve and keep your knowledge up to date. Travel! Have fun! For the rest, do what makes you happy without worrying about the opinion of others. It's your life!