The 10 Best Watersports Spots in the DOM TOM
"10 spots in the DOM TOM"
Today we present to you 10 structures located in the DOM TOM: Reunion Island, Guadeloupe and Martinique.
All these structures can be found on Spotyride. Do not hesitate to go there, the link for each spot will be below.
You will be able to plan your vacation in these idyllic places, because the weather is favorable for the heat and the good weather a good part of the year.
Baz'Notik is a kitesurf school and a Windsurf school which organizes kitesurf or Windsurf courses.
Open from 9 a.m. to 5 p.m. every day. Paddle, kitesurf, wake / water ski / towed buoy and windsurfing in Martinique with the possibility of private lessons for each activity.
You can find in the base a shop to be able to buy your material directly or by correspondence.
Located in the most beautiful bay in the world: Fort de France bay in Trois-Îlets, the most touristic and lively town on the island.
The Baz'Notik nautical base:
The Saintes archipelago is the perfect place to discover scuba diving.
You will be able to discover with Pisquettes, the seabed.
They take novice divers as confirmed, discover the richness of the Saintois seabed, safely, on a very wide variety of sites, chosen according to the level, weather conditions and even currents.
Pisquettes is a team, united for a long time by a deep friendship but also by shared values.
The attention given to each, experience, thoroughness and good humor will forge lasting memories in the crystal clear waters of Les Saintes.
Kitesurfing, windsurfing, paddle 7/7 in Martinique
You can exercise sports on two sites: L'Anse Michel, Baie des Anglais. Alizé fun also rents on cruise ships from Le Marin and delivery is free!
The school offers lessons and rental of Kitesurf, Windsurf and Paddle throughout the year on one of the most beautiful beach in Martinique located at Anse Michel Cap Chevalier.
Fun Caraïbes is the first site school created in 1999 in Martinique.
Several courses are organized especially for you, whether you are a beginner or not. Equipment rental is available on the spot. The equipment is provided during the courses: wing, float, vest, harness, helmet and slippers.
Sunglasses and sunscreen are an important point to have in order to have a good time, so don't forget!
The learning spot is exceptional between the East Cape and the Ilets du François in the area where you walk 1km from the coast.
Welcome to Sainte Anne Kite School, your Kitesurf club in Guadeloupe.
Solo, duo, group, family lessons, lessons to progress. That's not all, surf and foil lessons accompanied by the rental of equipment available on the Anse de Belley spot thanks to the rental service.
A Kids club formula is planned to take care of a group of children resident in Guadeloupe, to learn Kitesurf.
It is an aquatic sports course on 1500 m2.
Access is authorized for a minimum of 110 cm, children 6 years old must be accompanied by an adult and from 7 years and knowing how to swim, the child can access it alone.
For your safety, surveillance is ensured by a team of qualified and dynamic lifeguards.
Life jackets are given on arrival and are compulsory for everyone.
Open daily from 9 a.m. to 5 p.m., Madinina Kayaks offers kayak trips: solo, duo, trio, family for half a day or a full day. On Robert Bay to come and discover the mangrove by Kayak. You can also see the aquatic fauna, the white backgrounds, the Iguanas.
Their primary objective is to satisfy you and meet your needs.
The diving center in southern Reunion is located in Etang Salé in the southwest of Reunion Island, a few steps from the black sand beach and the Pirogue Basin.
The map of the most beautiful diving sites in Reunion offered by Plongée Salée. They offer 16 dive sites on the west coast of Reunion, caves, tunnels, overhangs, drop-offs and coral reefs accessible for all levels, all divers will be delighted. Different formulas are available: children, beginners, advanced.
N ° 1 for sea trips in Reunion. For sea excursions, dolphin safaris, cetacean watching and many other activities are available 7 days a week from the Marina of Saint-Gilles-les-Bains La Réunion.
The boat is a semi-rigid with 12 places, the Explo'Run.
For your nautical trips choose Coco Boat.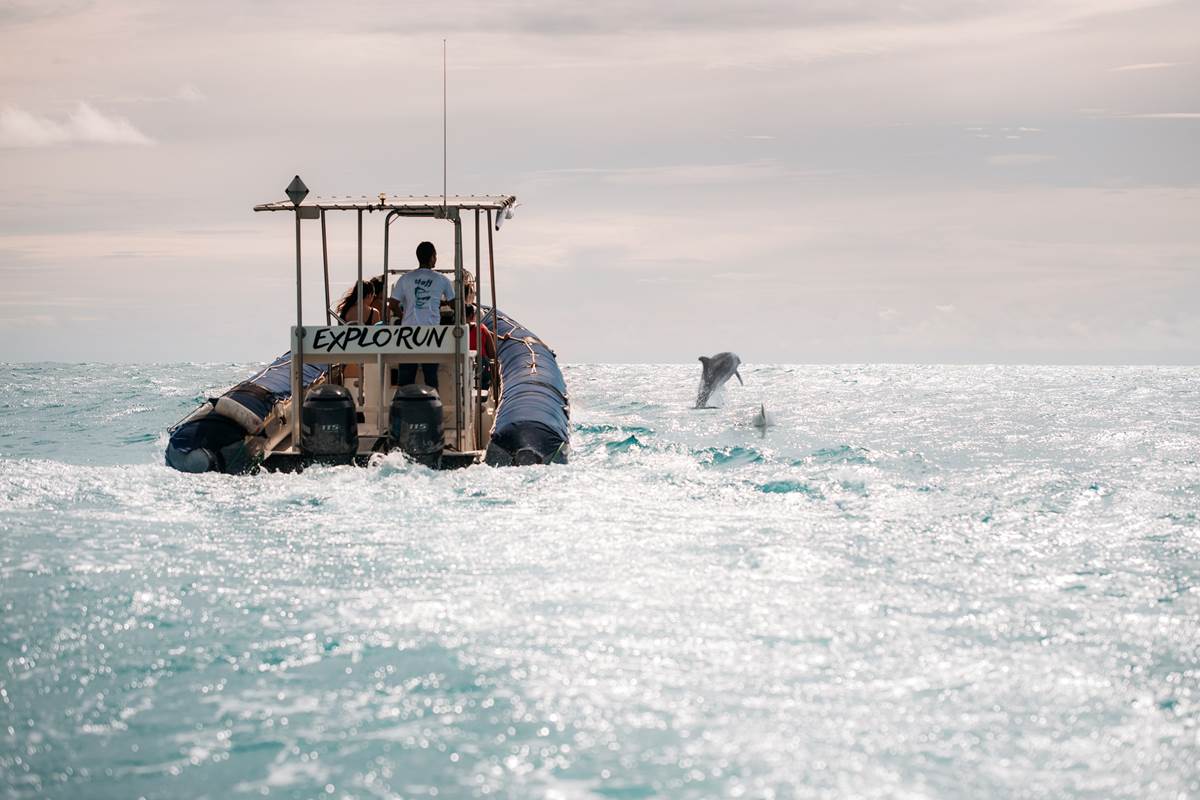 Rafting:
The rafting takes place on the Marsouins river, downstream from the Takamaka site, in a tropical and unspoiled nature. This activity allows the use of different inflatable boats (raft, canoraft, airboat).
This activity is for everyone, whether you are alone, in pairs, in a group, with friends, or with family and can be aimed at works councils and associations.
Aquatic Canyon:
They suggest that you descend the Rivière des Roches into an aquatic canyon.
It is a descent that consists of jumps, natural slides and swimming in the currents of this gem of Reunion. With its green and emerald blue reflections, the Roches River crosses a tropical and lush nature.
Be at least 10 years old and know how to swim.
10 spots in the DOM TOM